Tycker att jag är rätt kunnig på Rout-reglerna, men ibland blir man fundersam...

A10.51 DIRECTION: …a routing unit must move to the nearest (in MF calculated at the start of its RtPh) building or woods hex (even if overstacked) unless that route is through/into a known minefield or FFE, or is not traversable. As long as it reaches that hex during a single RtPh, it need not use the shortest route, but as long as it follows the shortest path in MF otherwise, it may enter a shellhole/entrenchment/pillbox to avoid Interdiction even if it can no longer reach that woods/building hex in a single RtPh.
…At the start of its RtPh, a routing unit must designate its destination and must attempt to reach it during that RtPh. If a newly-Known enemy unit prevents this, a new destination is re-figured from that point. 
…A routing unit may also ignore a building/woods hex if that hex is no farther from a Known enemy unit than its starting hex, even if it must rout through that now-ignored hex to reach its destination.
Se bilderna. Den blå enheten är DM, de röda är Good Order fiender.
Situation 1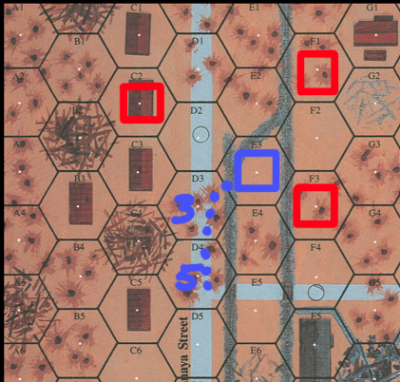 • Den brutna enheten måste routa eftersom det står en GO fiende i F3.
• Han når fram till Rubble i C4, men väljer bort den (Den är lika långt bort som till fienden i C2).
• Han når i teorin fram till Huset i C5.
• Eftersom han vill undvika Interdiction väljer den brutna enheten att röra sig genom Shellholes, vilket är okej (se blå text i reglerna ovan). Alltså spenderar han 5 MF och kommer därför inte fram till huset i C5.
Fråga:
- Får han fortsätta till D5 eftersom han har ett poäng kvar?
Jag hittar inget i reglerna som säger mot detta, men det "känns" möjligen lite fel.
Situation 2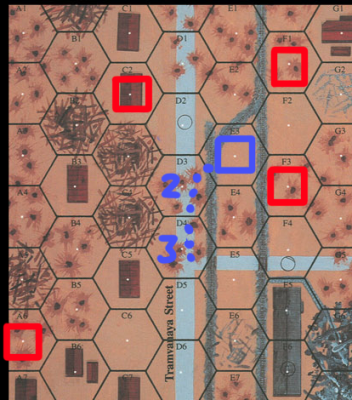 Samma förutsättningar som tidigare, men här ligger ett Rubble i C3, vilket innebär att den brutna truppen inte riskerar Interdiction och kommer således fram till D4 på bara 3 MF. 
Fråga:
- Enligt A10.51 behöver man inte använda den kortaste vägen för att nå sitt mål. Kan enheten därför välja att ta en liten omväg kring D5 (där han blr Interdicted och upptäcker fienden i A6 och således inte längre kan ta sig till C5)?
Jag tycker detta verkar 100% legitimt.